Star Wars Euro Collector
Created by Wolfgang Schloegl ( E-Mail ) and contributors.
Collecting Star Wars Toys and Merchandising in Europe
After the release of the Special Edition of the Star Wars Trilogy and now after Episode I has hit most of the countries in Europe people should be aware again that there are Star Wars collectibles.
In the dry years of Star Wars collecting, 1986 to 1994, where nearly no new Star Wars products were released, collecting Star Wars items became a hobby for many who watched the Star Wars movies when they were young, this for the majority in the United States but also for die hards in Europe and all over the world. I was one of them. I had the internet from 1993 on, so I had the possibility to obtain great collectibles from the USA. But I was never able to obtain things like prototypes or store displays, items that US elitists love to have. But because of the high prices and the lack of right connections I never made it into these collecting areas.
This is the reason why I specialized on European Star Wars collectibles, especially German items (I'm in Germany). With collecting these I have the possibility to find things that are fairly unknown and so quite interesting. To share my interest I created this archive for fellow collectors or anybody else who is interested. The intention is not to have pictures of any European variation of everything, but I want to give a quite comprehensive overview of what's out there. To achieve this contributions are more than welcome. Please send anything you think it would fit in the archive to my e-mail. All contributors will be honored in the contributors list.
Now Please Select an Era:
(The Vintage and Special Edition sections are previews.)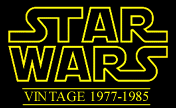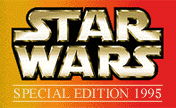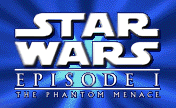 I'm working to group more than 180 pictures for the Vintage Section and more than 120 for the Special Edition Section!
This is not a sales list! These are just images and information. If you want to buy or sell go to the Star Wars Collectors Classifieds - Kleinanzeigen.
Specials:
Science Fiction in Germany, House of History of Federal Republic of Germany, Bonn, Nov 2012
Star Wars Toy Exhibition Nuremberg, 2005
Spain Conventions Special
How Star Wars Collecting Affects my Life
Happy collecting, also with the following links to sites that also deal with European Star Wars Collectibles:
The Star Wars Collectors Archive (Foreign to US Toys)
Marino's Spanish Star Wars Collecting Page
Guerra de las Galaxias (Spain)
The Star Wars Collector (Belgium)
Star Wars Collecting in The Netherlands
Dutch Star Wars Action Figure Archive
The TWIN Collectibles (Dutch)
Star Wars - The Collecting Dutchman
The French Star Wars Toys Collecting Page
UK Star Wars Collectables
The Palitoy Card Back Variation Guide
Kevb's Star Wars Collectables UK News Homepage
Star Wars UK
Gazzas UK Star Wars Web Site
MikeSave's UK StarWars Emporium
Palitoy.com, the world of vintage Star Wars action figures
Kev's Scottish Star Wars figures page
The Canadian Star Wars Gallery (not European, but cool!)

Copyright © Wolfgang Schloegl 1999-2002
E-Mail
Disclaimer: This page is not affiliated and/or endorsed by Lucasfilm Ltd or 20th Century Fox. Star Wars, the Star Wars logo, all names and pictures of Star Wars action figures, characters, vehicles, playsets, accessories and any other Star Wars related items are registered trademarks and/or copyrights of Lucasfilm Ltd., or their respective trademark and copyright holders. All original content, both graphical and textual, is the intellectual property of Wolfgang Schloegl if no other copyrights are stated. This page is for entertainment and information purposes only.