Metal Surprise
Created by Wolfgang Schloegl ( E-Mail )
My Collection of Kinder Surprise Metal Figures
I'm collecting these figures since about 1980. So I started a long time before collecting Kinder Surprise became a hysteria here in Germany. Many people are after the plastic figures, but I only collect metal figures. I now have a quite nice collection of all figures at least in one color. Still missing are some color variations.
The hysteria was good in two points. First I had the possibility to get also the figures that were not in the eggs in Germany because people brought them to shows from everywere in Europe. Second I had the possibility to sell my doubbles ;-)
A list of quite all metal figure is here: List of all Metal Figures with Pictures
Not shown on the lower big picture are the small size figures (35mm). Many series (see list) exist also in this smaller size in three colors (copper, iron, brass). But my display case is already filled with the standard sized (40mm) figures.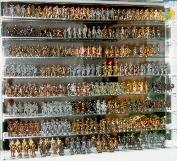 Klick to enlarge.

If you are interested in the history of collecting Kinder Surprise figures click here for the preface of the Welz price-guide. I translated this text some years ago from German when this guide was the fist covering the Kinder Surprise collecting subject here in Germany. Now there are about 7 different guides available.
Happy collecting, also with following links:
Kinder Surprise Classifieds - Kleinanzeigen
Free ads for your favourite collectibles.
KinderSurprise Metal Figures Catalogue
A very cool site in Russia which lists all metal figures with many pictures.
Definitely check it out!
Susanne Koppon's Kinder Surprise Page
Where I got mostly my list from.