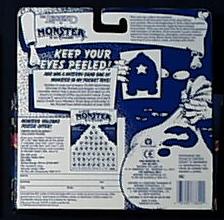 On the back of the later Series 1 "Secret 12-Pack" (US) was an ad for a special Series 1 monster which was included randomly in the packs. This could be identified with a star on its back instead of a point value. Here is the text from the ad:
Keep your eyes peeled!
And win a mystery grab bag of Monster In My Pocket toys!
Hidden in one of every 10.000 Matchbox Monster In My Pocket packages, is a secret monster which has a special star branded on it´s back (*) instead of the usual point value. If you capture it, send it to the address below and we´ll return it with your Mystery Grab Bag of Monster In My Pocket toys retail valued at over $50!
Nathan Horne sent me some interesting new information in 2011. Prima Toys who released MIMP in South Africa had some more details about the "Star Offer" on a leaflet stating that the secret monster is a Jotun Troll with a star on its back. (The leaflet had playing instructions in English and Afrikaans.) So check your Trolls.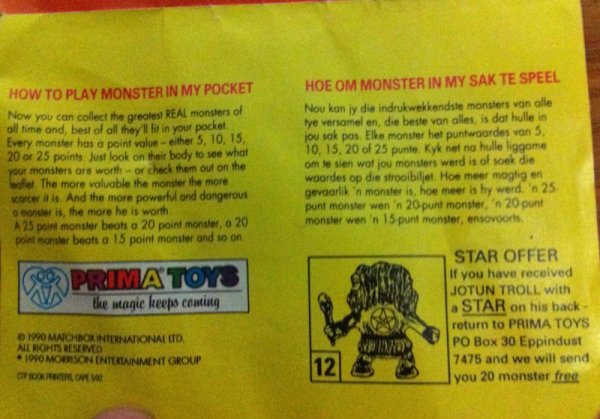 Although I stopped collecting MIMP finally a Star Monster find was reported to me in December 2020 by Ashley from Australia. It was indeed a Jotun Troll. Ashley told me he has had the figure since a child, purchased in Australia. And he sent me these nice pictures to share: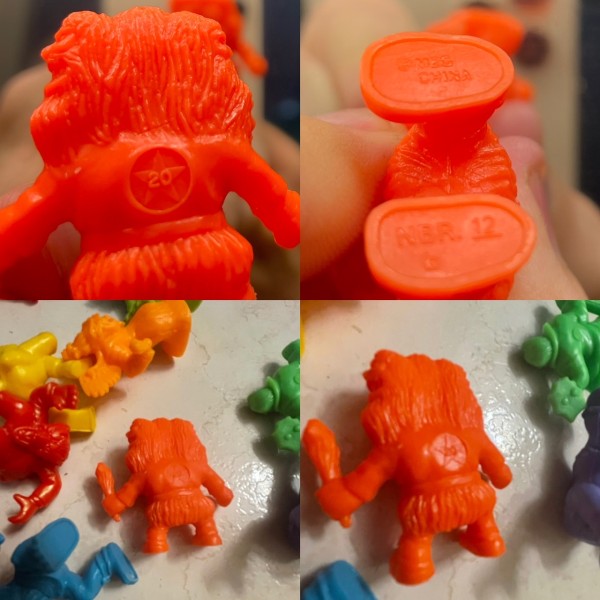 If someone finds another one, perhaps you can let me know :-) ( E-Mail )