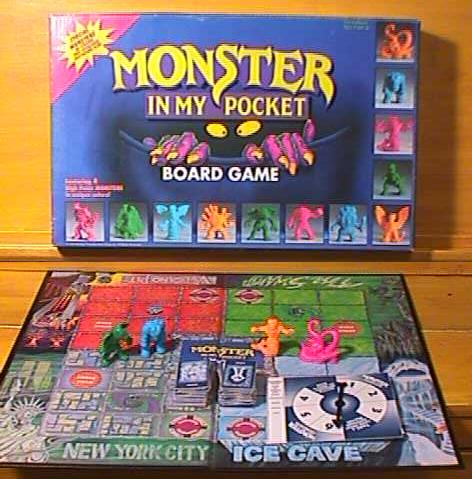 The Decipher M.I.M.P. Board Game (1991) came with four Series 1 figures in exclusive colors. Cyan, orange and magenta look very similar to the Series 2 colors, the dark green is exclusive to figures from the Decipher Board Game. Reported assortments are:
cyan Behemoth, orange Triton, dark green Tengu, magenta Kraken
purple (?) Behemoth, orange Griffin , dark green Tengu, magenta Kraken
dark green Behemoth, magenta Triton, cyan Tengu, orange Kraken
The object is to win the most battles in four different environments - the Volcano Pit, Swamp, Ice Cave and New York. Game comes with box, gameboard, spinner, 4 collector's monster figures, 48 monster cards and rules.