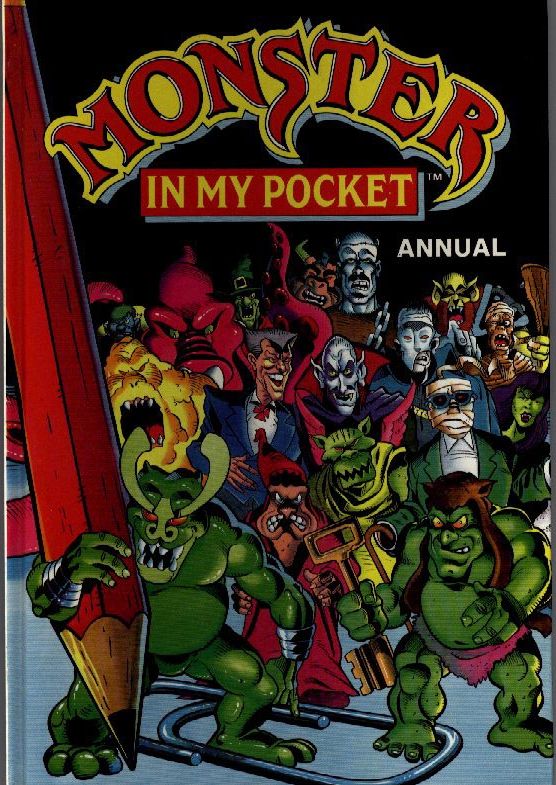 Monster In My Pocket Annual, published by Marvel Comics, Ltd., Arundel House, London, 1992, is bound in pictorial boards, 7 1/2" x 11 1/4", 61 pp, vividly colored on glossy paper. The book is illustrated on the cover with a black background, red on yellow and yellow on red title, "annual" in white, a huge pencil on left edge with a group of colorful monsters to the right of it. Same on back. This sold new for 4.50 British Pounds.
The table of contents:

The Legend So Far 6
Destroy All Monsters! 9
Monster Fact File: Vampire 16
War Of The Monsters! 17
Monster Board Game! 26
Monster Fact File: Warlock 28
Swamp Beast! 29
Monster Fact File: Tyrannosaurus Rex 35
Monster Word Search! 36
Mayhem At The Mall! 37
Fact File: Jack Miles 48
Want To See Something Really Scary? 49
Monster Fact File: Swamp Beast 60
Draw A Monster! 61
Jack Miles is not a monster, Jack Miles is a teenager. His fact file tells how he buys a new leather jacket, and when he gets it home finds that a group of miniature monsters have taken up residence in the pockets. Just a one page illustration and small story in print.
Info by Catherine Keller.